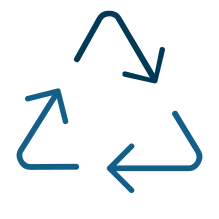 RECYCLING
Wemindji's recycling program recovery rate is currently less than 20%. According to a 2017 study and other standards, a reasonable rate of recovery should be closer to 60%.
We need to improve our household sorting to ensure that all recyclable materials end up in the blue bin!
As of April 2021, the recycling program has been extended from your home to include your office and recreational areas, both indoor and outdoor!

Follow the 3 simple rules to improve Wemindji's recycling recovery rate!
Rule 1
When purchasing new products, look for the recycling symbol to be sure the packaging can be recycled.
They are:
Plastic containers featuring one of these symbols:

, , , , , (pay attention goes to garbage)
Plastic bags (soft and stretchy)
Plastic bottles, plates and cups
Plastic food containers and cutlery (black plastic is garbage)

Metals

Tin, aluminum and steel cans, pie plates, trays, and roasting pans (cleaned)

Glass
Paper and Cardboard

Paper bags, newspaper, flyers, cereal/snack cardboard boxes, printed paper glossy or not.
Rule 2
Rinse containers before putting them in the Blue bin, to ensure it is clean enough to be processed by the recyclers.
Rule 3
Don't miss your recycling weekly collection and bring your BLUE bin at your curb side the day before the collect.